Nesmuk Exclusive: beauty in the form of a chef's knife
When you see the Nesmuk Exclusive series for the first time you'll immediately notice the breathtakingly beautiful blade. This magnificent damascus steel is hand-forged in Germany by craftsmen with years of experience. Countless layers of steel come together to form the stunning blade of the Exclusive collection. This series is also called Nesmuk Exklusiv.
Read more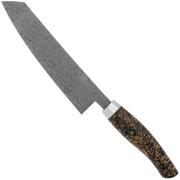 Features of the Nesmuk Exclusive series
A special feature of the Nesmuk Exclusive collection is its grind. One side of the blade has a flat-grind, while the other side of the blade has an S-shaped hollow-grind. As such there is a less cutting resistance. Moreover, it helps with the so-called 'food release'. That means slices of apple or potato, for example, slide off the blade more easily. Applying such a sophisticated grind is manual work. There are no mass-produced knives with a grind of this quality. In this, you recognise the hand of the professional craftsman.
Impressively lightweight
Another advantage of the Nesmuk Exclusive collection is that these knives are incredibly lightweight. A chef's knife weighs about 155 grams! That's even lighter than many Japanese knives. Nesmuk is able to achieve this thanks to the very thin grind of the blade. Moreover, the bolster, the steel transition between blade and handle, is made of a lightweight material. This makes the chef's knife easy to control.
Simply the best
An exclusive range like the Nesmuk Exklusiv collection is perfect for fans of exquisite design and exceptional craftsmanship. These knives are so beautiful that you'd almost put them underneath a bell jar as a 'conversation piece'. At the same time, they are really made to be used and to perform exceptionally well. A successful union of form and function.
Enjoying Nesmuk for life
Like any other great kitchen knife a Nesmuk should not be cleaned in a dishwasher. Wash it by hand after using it and dry it properly. Only use it on a wooden cutting board. Of course, bones should be avoided. Treat this knife right, and you will enjoy it for the rest of your life. And later on, so will your children and their children.