Carryosity #7 Knife Only Edition: Top 3 Modern Gerber Cleaver knives
Everyone has an every day carry: an EDC. These are all the tools you carry with you on a daily basis. An EDC says something about who you are as a person, and how prepared you are on a daily basis. It is also great to match all your EDC items. It is quite tricky to assemble an EDC. In Carryosity we select the perfect EDC for you based on the most popular themes and brands.


Before you start comprising an every day carry it is important to have the right basis. This is a knife you use to build your EDC around. But which knife should you choose? If you love tough, robust knives the cleaver shape is perfect. This a blade shape you often see on butcher's knives. Gerber uses this classic shape on modern pocket knives. They are an amazing bang for your buck. In this Carryosity #7 we made a list of our top 3 Gerber knives!
Items in this Carryosity #7
1. Gerber Tri-Tip Mini Cleaver Green Black 31-003727
The Gerber Tri-Tip Mini Cleaver is a remarkable fixed knife. As the name might already suggest it is a type of mini cleaver. You use it for outdoor cooking, or for all sorts of tasks in and around the house. The front of the blade is perfect for scraping, when, for instance, removing stickers. The handle is made from aluminium. Because of the grip pattern you have enough grip.
promo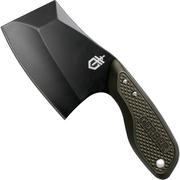 promo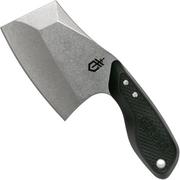 2. Gerber Flatiron 30-001495
The Gerber Flatiron is a tough and robust pocket knife. Made for heavy duty use. The handle is made from stainless steel and G10. The rough surface of the G10 scales supplies you with enough grip to make sure the knife won't easily slip from your hand during use. When opened the blade is locked by a robust framelock mechanism. The blade is made from 7Cr17MoV-steel. And all of that for a very good price.
promo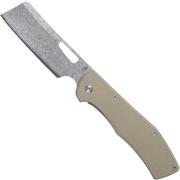 promo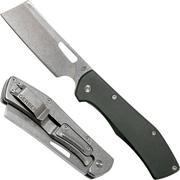 promo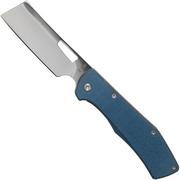 3. Gerber Quadrant Bamboo 30-001669
The Gerber Quadrant Bamboo is an EDC knife with a unique design. The cleaver-style blade of this knife might remind you of a classic straight razor. The bamboo inlay reinforces this classic design. The Quadrant is made to help you with all your daily tasks. Opening boxes, peeling apples and every other task that comes your way.
promo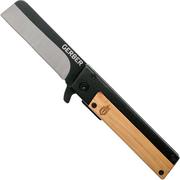 promo