Carryosity #6 Knife Only Edition: Top 5 modern slipjoint pocket knives
Everyone has an every day carry: an EDC. These are all the tools you carry with you on a daily basis. An EDC says something about who you are as a person, and how prepared you are on a daily basis. It is also great to match all your EDC items. It is quite tricky to assemble an EDC. In Carryosity we select the perfect EDC for you based on the most popular themes and brands.
Depending on the laws and regulations or where you live it can be useful to add a slipjoint to your EDC. A slipjoint lock means there is only some resistance to prevent a knife from closing. You also often open these knives with two hands. Because of this combination these knives can legally be carried in many places. We make a distinction between traditional and modern slipjoints. A modern slipjoint is a knife that is derived from a classic knife, but has a modern twist. This could be a change in the design, or that the knife is enhanced with state-of-the-art materials such as titanium and carbon fibre. In this Carryosity #6 we focus on these modern slipjoint pocket knives. And this is our top 5!
1. Fox Knives Livri Carbon fibre FX-273CF
The Fox Knives Livri is a slim and compact slipjoint pocket knife. The Livri is enhanced with a Böhler M390 steel blade and a stunning carbon fibre handle. Premium materials for a fancy knife. As cherry on top it comes with a leather storage case. A great addition for a gentleman's knife without pocket clip. And all of that for this amazing price. Very impressive!
2. Liong Mah Traveller Clippoint Green Canvas Micarta TR-CL-GCM
For years Liong Mah is known for his incredibly modern designs. The Traveller is no exception. A light-weight pocket knife. Liong Mah was able to keep the weight low by using G10 for the handle. The seamlessly placed micarta inlay looks amazing. It makes the knife look a little more special. The finger groove just before the handle ensures that the knife won't accidentally close. Very clever.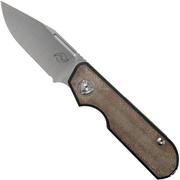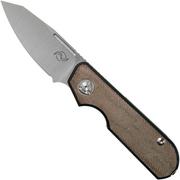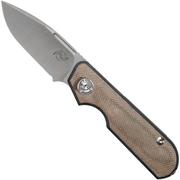 3. Chris Reeve Knives Impinda IMP-1000
The Chris Reeve Impinda is a very special pocket knife. It is namely the first slipjoint ever produced by Chris Reeve Knives. For this project CRK joined forces with world-famous knife maker Bill Harsey. The spring of the Impinda was designed as such that the knife is easier to open than to close. A modern and very innovative invention! The clip which was milled from one solid piece of titanium, the royal pivot and the slim titanium handle look amazing.
4. LionSteel Thrill orange aluminium TL-A-OS
The Lionsteel Thrill lives up to its name. The Thrill is enhanced with an ingenious slipjoint mechanism and a handle made from one solid block of aluminium. But that is not all. With the H.WAY system (Hide What Annoys You) the pocket clip will simply disappear in the handle when you use the knife. It is namely enhanced with a spring. The only thing you need to do if you want to hang it from your pocket is press the light button on the other side of the handle. The Thrill is perhaps the most modern knife on this list.
promo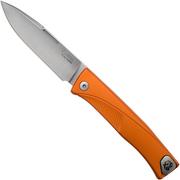 promo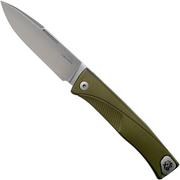 promo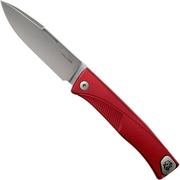 5. Gerber Straightlace Blue 30-001664
The Gerber Straightlace is a modern slipjoint pocket knife. Striking is the excellent price-quality ratio. In this range it will be difficult to find a comparable knife, for an even better price. The design is distinctive and the materials colourful. Perfect for anyone who loves a touch of colour in their every day carry.
promo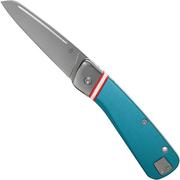 promo