New: Buck 110 and 112 Slim EDC pocket knives
As one of the most influential designs in the pocket knife world the Buck 110 Folding Hunter has become almost synonymous with the term 'pocket knife'. The same applies to the smaller Buck 112 Ranger. And yet Buck felt that there was still the possibility to make small versions of these designs. Meet the Buck 110 and 112 Slim EDC-versions and their Pro-versions.
Buck 110 and 112 Slim EDC
These knives have undergone quite the transformation since the introduction of their ancestors. The robust messing and wood handle, for instance, has been replaced by a modern construction of steel liners with a FRN handle. Great as it cuts the total weight in halve! The handle is also twice as thin. The steel used for the blade remains the same, even though this blade is enhanced with a stonewash finish. This finish nicely masks any traces of use: perfect for intensive use.
Even better about these new Buck knives is that you can open them with one hand. Both sides of the blade have been enhanced with a thumb stud you can use to easily open the knife. And what about the pocket clip which ensures that the Buck 110 Slim EDC won't fall from your pocket. This clip can also be mounted to the left side of the handle. As such it is perfect for left and right-handed use. Also great: Buck was able to keep the price of the Buck Slim EDC knives relatively low! For less than €50 you are done!
Buck Slim EDC Pro models: for intensive users
In addition to light-weight knives for an entry-level price Buck also thought about the demanding knife users. For these users they have produced the Pro-versions of both sizes. This time with CPM S30V steel: a premium type of steel that retains its sharpness even longer. The material for the handle was also upgraded. They are, for instance, available with micarta and G10. Especially micarta is a type of material you don't often come across on pocket knives. Like the 'normal' slim EDC versions of Buck these knives can be opened with one hand. And also these models have also been enhanced with a pocket clip that can be placed on both sides of the handle. Perfect for left and right-handed use. These Pro-versions are available for less than €120.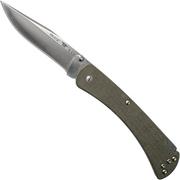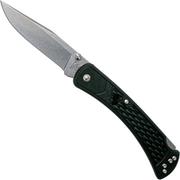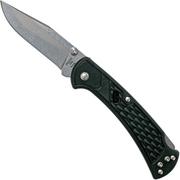 Conclusion
With these new Slim EDC versions of old acquaintances Buck has shown that they really go with the times. Instead of simply relying on proven models, Buck continues to innovate. Knives that can be opened with one hand, new materials for the handles and even better steel: they do whatever they can to make these models even more appealing. We are still amazed how Buck can produce these types of knives in the United States and offer them for such amazing prices.