The Nessmuk Trio: A modern take by Padraig Croke
Enthusiasts will know who 'Nessmuk' was and what he meant for modern bushcrafting. Our own bushcrafter Padraig Croke tested the 'Nessmuk system' for us with a Hultafors Ekelund axe, ESEE JG5 fixed blade and LionSteel BestMan folding knife.
In my last piece of writing for Knivesandtools I spoke about tool combinations, and choosing the right items for the tasks you may find yourself doing, as well as the type of terrain or woodland you are heading for. This is a topic I personally find fascinating, and I am always interested to see peoples tool combinations, and why they carry what they do. With the seemingly endless array of choices available to us outdoors people today when it comes to tools and brands, the task of finding the right combination that works for you can seem daunting. Survival knife or bushcraft knife? Axe or hatchet? Should I bring a saw?
The Nessmuk Trio was a tool combination pioneered by a man named George Washington Sears. Also known as Nessmuk, Sears was a woodsman and early conservationist from the late 1800s, and is regarded, alongside Kephart, as one of the grandfathers of modern bushcraft. His book, entitled Woodcraft and Camping, has been in print ever since its publication in 1884, and remains a staple in any book collection. Many, including myself, have poured over his work and attempted to digest and recreate his kit and tools, and today he remains one of the most influential figures in the bushcraft world. Nessmuk believed that his combination of tools (a belt knife, hand axe and pocket knife) could complete any task he needed to accomplish while out in the field. In this article I would like to look at this combination. Not just how it is relevant in today's outdoor pursuits, but also how we might modify it to suit the types of tasks the modern outdoorsman finds himself working at today.
Choosing Your Tools
As outdoors people we are natural tinkerers, taking delight in the times between adventures to plan and modify our kit, deciding how and what to carry, and inventing new and interesting ways to suit our own taste and style of carry. Of course, everyone will have their own thoughts and ideas on what they consider to be the ultimate setup. There is no right or wrong answer, however, the Nessmuk trio is a very good place to start as a basis for what you may need in the field. It is also worth thinking about what kind of outdoorsman you are. Whether you are an ultralight hiker, a hunter or a basecamper, your kit is going to vary drastically due to transport limitations, your own height and weight and the duration of time you plan to be out. For example a larger camp axe may be more suitable if you plan on base camping for a number of days, especially in colder months, in order to process more fuel for your fire. Whereas for longer trekking or for light crafting or splitting usage, a one handed hatchet may well be more suitable. It is all about versatility and planning.
Sears was a man who liked to cook and hunt, and so his tools were designed to suit his needs. His belt knife was shaped to suit food processing and skinning (which we will discuss later on in this article). His axe was double bitted, one side was for wood processing, the other for cutting through bone, and his folding knife was used for crafting small camp items. Let's look at each of the tools now in greater detail.
The Axe
As mentioned above, Nessmuk carried a double bit axe. In his book Woodcraft and Camping, he describes his axe and his thoughts on carrying one.
'And just here let me digress for a little chat on the indispensable hatchet; for it is the most difficult piece of camp kit to obtain in perfection of which I have any knowledge. Before I was a dozen years old I came to realize that a light hatchet was a sine qua non in woodcraft, and I also found it a most difficult thing to get. I tried shingling hatchets, lathing hatchets, and the small hatchets to be found in country hardware stores, but none of them were satisfactory… I had hunted twelve years before I caught up with the pocket-axe I was looking for. It was made in Rochester, by a surgical instrument maker named Bushnell… I prefer the double blade. I want one thick, stunt edge for knots, deers' bones, etc., and a fine, keen edge for cutting clear timber.'

George Washington Sears, Woodcraft and Camping
For Nessmuk, the necessity to have a short, double bit axe suited his needs, which were for processing animals and for splitting timber. For somebody such as myself, who does not process large animal parts, but instead uses the axe for splitting and camp craft, the need for a double bit is not necessary. With that in mind, personally my two favourite axes are the Fiskars Norden N7, and the Hultafors Ekelund Hunting Axe (which was originally called the Hultafors Classic Hunter). I will not go into the Fiskars too much now, but you can read my full review Fiskars Norden N7 here.
Hultafors Ekelund Hunting Axe review
The Hultafors Ekelund (Classic Hunter) was my very first axe when I started going to the woods, and I still have it today. With an overall length of 20", it is long enough to be used two-handed, making it ideal for easier forestry work and splitting. The Ekelund is the perfect middle ground between carrying a larger splitting axe, and a smaller hatchet. The convex head, made from high quality Swedish steel, is hand forged and the profile makes it usable for skinning game with great precision. It is a great size for camp craft, and you could certainly get away with finer carving work with it. However, with an overall weight of 1.25kg, prolonged use such as for spoon carving would not be advisable.
The high quality leather mask for this axe, in my opinion, has an advantage over other axe masks I have seen from other manufacturers. That is because it does not have a snap button, but instead a piece of leather that ties off around the back of the axe head. This is particularly good for a number of reasons. One is that it can be pulled nice and tight, as the leather warps and stretches over time, rather than relying on a simple button snap that may loosen or fail with age. Another advantage of this, is that it is very easy to replace in the field with a piece of paracord or other cordage, should it snap or fail on you.
If you are the type of outdoorsman using your axe for crafting or building work, a smaller and more nimble axe could be preferable for you. A one handed axe that was lighter and faster like the Fiskars Norden N7 would probably be more suitable for your needs. Regardless of what style or size you use, the axe is always going to be the friend of a bushcrafter. But now let us move on to the companion of the axe. Nessmuks belt knife.
The Belt Knife
With the heavier work being taken care of with the hatchet or axe, the next tool in line in terms of weight or size is the belt knife. The belt knife is regarded by many to be the primary tool of the bushcrafter or outdoorsman, allowing for the creation of many other tools, as well as to break down smaller pieces of wood and even process food. Nessmuk thought long and hard about the type of knife he liked to carry, and was partial to a slimmer and more lightweight knife, over the heavier, one-tool type blades. He says;
"A word as to knife, or knives. These are of prime necessity, and should be of the best, both as to shape and temper. The "bowies" and "hunting knives" usually kept on sale, are thick, clumsy affairs, with a sort of ridge along the middle of the blade, murderous-looking, but of little use; rather fitted to adorn a dime novel or the belt of "Billy the Kid," than the outfit of the hunter. The one shown in the cut is thin in the blade, and handy for skinning, cutting meat, or eating with."

George Washington Sears, Woodcraft and Camping
Apart from this last line, he actually speaks very little about the shape, style or maker of his knife. It does not appear anywhere that he actually used this knife for woodwork or general bushcraft, but if we take a look at the illustration he has provided us with, we can see that it is clearly shaped in a style most often seen in butchery and meat processing knives, with a hump or ridge on the back of the blade for skinning, and a round belly suitable for slicing through meat. This is a knife shape I was not too familiar with before I set out on the task of writing this article about 3 months ago. So in true Nessmuk style I started using the ESEE JG5, which is actually inspired by Nessmuk himself. I wanted to see if a knife like this would be a versatile woods knife for today's modern bushcrafter.
ESEE JG5 Review
Some people may already be familiar with this knife. Released two years ago, the JG5 was part of a new set of tools that ESEE worked on, along with the ESEE PR4 (for which I have reviewed and can be read HERE) and the Gibson axe, all of which use the same materials of stone washed 1095 and brown scalloped micarta handles. Although similar specs, the PR4 and JG5 behave very differently from each other. The first thing you will notice about the JG5 is how slim it is, and combining this with the flat grind and rounded belly you will find food processing with this knife to be a piece of cake (no pun intended). Unlike a scandi grind, this edge geometry will handle vegetables and meat amazingly, a perfect companion for getting your stew ingredients processed. It is an outdoor knife designed for the camp cooker in you.
Admittedly, I was sceptical about the versatility of this knife when it first landed in my hand. The scales and shape make it extremely comfortable in the hand yes… but would the thickness and length of the JG5 make it suitable for the type of work I find myself using a knife for in the field? Honestly, it is a great knife, and I put it through the tests I would normally work a blade to, including batoning, feathersticking and some finer carving tasks. On the whole it is a capable knife.
Feathersticking and getting a fire going with the 90 degree spine is absolutely no problem at all, as one would expect from an ESEE tool. Where the JG5 falls a little short in my opinion are with finer carving tasks. The rounded belly used for skinning and slicing are not ideal for notching or carving. The overall length of the cutting edge, a full 5 inches, would normally be ideal for processing wood by batonning. However, combining this with a relatively thin 0.125" spine makes this more heavy duty task feel a little precarious, and I did feel a wobble or bend in the steel when attempting this. It will absolutely get the job done, but it is not designed for it. But this is why we also carry our axe, and so the argument could be made that the JG5 is the perfect companion for an axe in your tool combination, and is not a one tool option.
The Pocket Knife
We have covered heavy tasks, camp craft and wood processing with our axe or hatchet. As well as this, our belt knife has us covered for the moderate tasks of fire prep, food processing and cooking. What is left after this? As mentioned above, the ESEE JG5 is not ideal for finer tasks, such as creating cooking utensils or notching. This is where the folding pocket knife was, for Nessmuk, the final piece of the puzzle for a versatile tool set. He described his pocket knife as follows.
"The strong double-bladed pocket knife is the best model I have yet found, and, in connection with the sheath knife, is all sufficient for camp use."

George Washington Sears, Woodcraft and Camping
This is pretty much all we know about his pocket knife, along with his drawing, so all we can do after that is speculate as to how and why he chose this style of blade. Judging by the illustration, it was most likely a Case Stockman or something of that type, with what looks like a clip point blade on one side and a spear point on the other. Many companies over the years have replicated this knife, however, in the spirit of modern approaches, I wanted to look at a modern blade that falls into a similar space. Enter the Lionsteel BestMan Slip joint.
Lionsteel BestMan BM13 Review
The idea of a folding blade, is for some, an outdated concept when it comes to tool combinations. We will go into this in more detail later in the article, however for now I will say that the multitool has, for the most part, replaced the folder. However, if we stick to the tradition of Nessmuks carry, something like the BestMan is perfect for finer tasks. This is quite simply a stunning little blade, and it has been finding its way into my pocket for months now. What I personally love about it, is the fact that, although it is clearly inspired by a traditional folder, the materials Lionsteel are using are unapologetically modern! With titanium bolsters, olive wood scales and a blade made from M390, this little workhorse blurs the lines with the traditional gentleman's knife.
At 61HRC it is a relatively tough blade to sharpen, which is not ideal in the field, when sharpening and maintenance tools are limited. However, the advantage is that M390 favours sharpness and edge retention over toughness, perfect for smaller blades like this. It is incredibly wear resistant and so the edge retention will hold up well for you, even on extended multi-day trips in the field. Just remember to give her a sharpen before you leave on your adventure. Alternatively carry a ceramic stone such as the Spyderco double stuff. For more info on M390 find our writeup on Böhler M390 steel.
A sharper, edge retaining steel like M390 works well because the tasks required of your folder, such as notching and carving, should not really be putting too much strain on the blade anyway. The BestMan follows a two bladed approach. A clip point blade on one side, great for notches or food prep, and the sheepsfoot blade on the other, which is better served when you want to get your finger right behind the tip of the blade for slicing tasks, almost like you would use a scalpel or box cutter blade.
Possible Alternatives
I would never claim that any tool setup is perfect, and as I have expressed in this article, it is vital to take into consideration peoples purposes for being out in the woods. What they weigh, how they are carrying their tools, how long they are out for, what kind of woodlands they are going to… the list of variables is endless. Everyone will find their own combination that works for them, and therein lies the beauty of what we do. Adapt, evolve and learn from each other. The Nessmuk trio is simply one mode of tool combination that has been around for 100 years. Can it be updated? Of course! Below are some possible alternatives, and in my opinion, the advantages and disadvantages to them.
A folding saw instead of an Axe?
Would the modern woodsman be better suited carrying a folding saw, such as a Silky, in favour of an axe? There are certainly advantages to this. When it comes to wood processing exclusively then on paper the saw will save you valuable energy when being used over an axe. Sawing limbs is far more calorie efficient than chopping them, particularly if you are using something like a pull saw, where the cutting power is delivered with the pull of the blade, and doesnt require alot of strength from the user.
In terms of learning curve and safety, the saw is far safer and more forgiving than an axe also. If you are new to axe work, then it would be good practice to learn proper axe safety under the supervision of somebody trained or experienced. It may seem counterintuitive, but actually an axe with a shorter handle is more dangerous and unforgiving than a longer handled one, because the swing area of the working edge is much closer to your body, leading to added precautions needed. One overswing or glancing blow to your chopping block can lead to losing toes or splitting knees and gashing shins. (trust me... I have seen it happen more than once). Axes are powerful tools, and should be respected as such.
The downsides? A saw is absolutely going to be safer for a beginner, as well as more energy efficient. But you cannot split firewood with a saw. Furthermore... replacing your axe will mean carving and camp craft tasks are going to be a little more difficult to get done. Personally I would not fancy making a raised bed or camp furniture without my axe on hand. You could counter this by carrying a heavier belt knife, capable of chopping and processing larger wood. Some suitable examples of this type of blade would be the KA-BAR Becker BK2, a Fallkniven S1X or perhaps an ESEE 6. All good knives to combine with a folding saw.
A multitool instead of a folder?
With so many options available to us today that Nessmuk did not have, it may seem like an obvious choice to replace the folding pocket knife in favour of a multitool such as a Victorinox Swiss Army Knife, or perhaps a Leatherman. Both are extremely good alternatives, and the tools available on these make them incredibly powerful and versatile alternatives.
The Leatherman has some advantages over the SAK in my opinion. One advantage is that their blades are typically locking blades, and so will not fold on your fingers when you are using them. I have also found their clip point blades, and steel choice (420HC) to be better at retaining an edge than the softer steel used by Victorinox. I also believe the saw on a Leatherman to be superior to the SAK, and the sharp back on it makes it an amazing ferro rod striker.
In my opinion the Leatherman, having no plastic parts, is a tougher tool than the Swiss Army Knife. The one tool that the Victorinox has that the Leatherman does not however, is the awl. I believe this to be one of the most underrated and versatile tools you can carry to the woods with you. It will perform anything from repairing and stitching your backpack to making holes in wood, scraping fatwood and striking a ferro rod. Have a look around YouTube for the usability of this tool alone.
The Victorinox versus Leatherman debate deserves its own article altogether (which I may look into in the future) so I will not go into it now. What I will say is that, yes there are many obvious benefits in choosing to carry a multitool over a traditional folding blade. The only disadvantage I can think of is the fact that, due to the choices of multitool brands, your choice of steel is somewhat limited. If you wish to carry a folding blade, your choice of steel quality is endless! From the low end Kershaw folders, all the way up to Chris Reeve Knives, you are only as limited as your budget allows for.
Conclusion
In my opinion, the Nessmuk Trio remains a solid foundation for a tool combination. I have spent time with this setup and I have seen that on one hand, it does need a modern intervention to make it useful to today's woodsman. On the other hand, despite those minor mods, it is fundamentally a great place to start, particularly for a beginner who is wondering what type of tools they should be carrying. My advice would be, as always, to do your own research. Mess around with tool combos, see what works for you. I can guarantee it will evolve and change over time for you, as your journey and your habits change, so do not be too precious with your choices at first. Enjoy the fun of trying new things, and theorising between your trips as to why one combo might work over another. All setups will have their advantages and disadvantages, so just be open and willing to see alternatives and ideas. With this attitude and knowledge you surely will not stray too far from the path. Happy tooling guys!
Padraig Croke
Padraig Croke is the host of the outdoors podcast Trial by Fire, which ran from 2018-2023. A graphic designer and photographer by day, as well as an avid outdoorsman and bushcraft enthusiast, when he's not writing for us he's usually out in the field making film or taking photographs.
promo
promo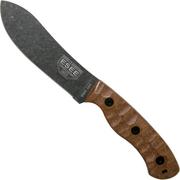 promo