Eden ED binoculars | Expert Review by Paul Böhre
Binocular brand Eden recently introduced a new set of 42 binoculars with ED glass, which results in crystal-clear and colour-fast images. Remarkable about the 8x magnifying version is the ultra-wide field of view: 133 at 1.000 metres. But also the 10x binoculars, with a field of view of 104 metres at 1.000 metres, is great. I took the latter with me to look for birds alongside the coast of Camperduin.
Comfortable neckstrap
When you put it on you immediately notice the nicely-feeling elastic neck strap. It is made from slightly resilient neoprene material and is extra-wide, which makes wearing it even more comfortable. Something that is often underestimated by bird-watchers, but people who often, for multiple hours a day, carry a pair of binoculars, will confirm that this is an underestimated issues with many binocular brands. The pair itself looks cool: the rubber casing is enhanced with thick ridges. As such you have more grip. The rubber is also fragrance-less, great because you do often hold the pair close to your nose. The pair is internally enhanced with a magnesium casing and therefore remarkably lightweight and practical.
BAK4 lenses
The optics themselves are enhanced with BAK4 lenses with ED glass, which provide you with nice and bright colour-fast images. The focus wheel is ridged and easy when focusing the pair. The 10x magnification is mostly great when you focus on looking at birds. They are a little bigger than when you use the 8x, which makes identifying them easier as well. Great when you are looking at seagulls at the beach or birds further out at sea. An 8x magnifying pair is suited for the more generally oriented nature lover, as the image is quieter due to the lower magnification. Both pairs focus at 2 metres, making them also suited for observing butterflies. The soft, removable eye cups are also great for spectacle wearers.
Great price/quality ratio
The price/quality ratio is great. You get a lot of value for money! The pair feels great in hand, looks amazing and provides you with clear images. The pair also comes with a very practical carrier bag. Also great: Knivesandtools gives a 25-year warranty period on material and construction flaws.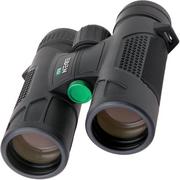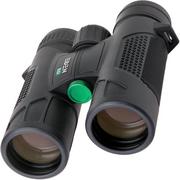 Paul Böhre
Paul Böhre (1961) is full-time birdwatcher and the editor of Roots nature magazine. He regularly puts binoculars and telescopes to the test.