Expert Interview Bushcraft Alli: Fenix
For this expert interview we asked Bushcraft Alli to review two Fenix head torches: the HP16R and the HM65R, and to tell us more about head torches in general. Alli lives in Hamburg, Germany and discovers the woods of Germany with her Labrador Ben. Want to learn more about her bushcraft adventures? Check out her Instagram or YouTube channel: @bushcraft_alli and Bushcraft Alli.
How do you recognize a good head torch?
A head torch needs to suit your purpose. If you use it for outdoor purposes this means a head torch needs to be robust, shock- and waterproof. It should feel great on your head and properly light up your surroundings.
What do you, as an expert, expect from a head torch?
In addition to the qualities I just mentioned, a head torch needs to be fitted with a powerful, rechargeable battery, but the light should also function with batteries. A great feature for both the HM65R and the HP16R are the controls. They are accessible and easy to use. The memory function is also a great plus! For bushcraft purposes I would recommend an additional red/green LED light to maintain your night vision.
What is the difference between a normal and a professional head torch?
There many 'normal' head torches that are great for daily use. Professional head torches, however, can be recognized by the quality of the materials used. Think of lightweight aluminium, for instance. Also ingenious is the battery indicator and the possibility to use batteries or a rechargeable battery. All features a regular head torch cannot offer you.
What would you say to someone looking for a good head torch?
First of all, you need to think about what you want to use the light for and where you will use it. A light for outdoor sports should adhere to different things than a light which will be used for hunting or bushcraft. The same applies to the geographical areas where you will use the light, such as in extremely cold or mild climates.
Which Fenix head torch would you take with you during one of your adventures?
I would go with the HP16R, which is very light at 75 grams, is shock, water and dustproof and comes with a powerful, rechargeable battery, but can also be used with batteries. It is enhanced with three independently controlled LED lights, included a red LED light. It feels comfortable on my head and can be rotated up to 60 degrees, making it very flexible and versatile.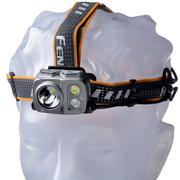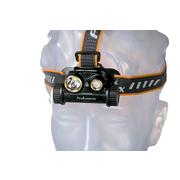 Bushcraft Alli
Alli shares her bushcraft adventures via her instagram account bushcraft_alli. She loves nature and sharing her passion with the world.