Benchmade 940 vs 940-2
When you go looking for the perfect EDC pocket knife you quickly come across the Benchmade 940. Or the Benchmade 940-2. But what are the differences between both models? We will explain!
Similarities
Let's start with the blade. It is namely identical. Both in terms of steel and finish and size. The contours of both knives follow each other exactly. So in terms of size or shape you don't have to choose one knife over the other.
Differences
When we look at the differences we end up with the handle. The 'standard' 940 is enhanced with a handle made from aluminium, with steel liners and a closed construction. The colour scheme is also cool: the aluminium handle is enhanced with a green anodized finish, and the backspacer is bright pink. A funky colour scheme that makes this knife stand out from the others.
The handle of the 940-2 is made from black G10. Here you also find a contrasting element: the stand-offs, the 'pillars' that separate the scales, are bright green! So the construction is also clearly different. When you look at the 940-2 you clearly see two individual, flat scales that are separated by the stand-offs.
Because of this open construction more dirt can get in between the handle. At the same time it is also easier to clean from the outside with compressed air or by flushing it with oil. For the 940 this is slightly more difficult, even though we are talking about marginal differences.
Because the construction differs, the weight is also slightly different. The result is that the Benchmade 940-2 only weighs 75 grams, while the Benchmade 940 weighs 85 grams. Not a massive difference, but it can affect your choice.
Benchmade 940 vs 940-2
To summarize, the material of the handle, the colours and the construction are different. Neither is really 'better' than the other. In the end it really comes down to taste and personal preference.
promo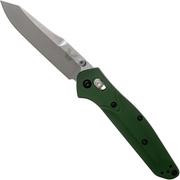 promo