Fiskars X25 vs Fiskars X27
The Fiskars X25 and X27 are two of the most well-known, large splitting axes. In this versus we compared them to learn more about their differences.
As it turns out they are similar in many ways. They are, for instance, made from exactly the same materials. The axe heads are made from carbon steel and both weigh 1830 grams. Both also come with a plastic protective cover which is easy to attach.
What is the difference?
The only difference between the X25 and the X27 is the length. The X25, for instance, has a total length of 72.3 cm, and the X27 a total length of 91.5 cm. You might think that the difference in length is not that influential. Nothing could be further from the truth. The X27 is very large, making the movement longer enabling you to apply more force. Unfortunately, this length is not only beneficial. For some the X27 could namely be a little too big. As such you lose a little force during use. Which is a shame! For these people the X25 is a more effective option because you won't lose any force.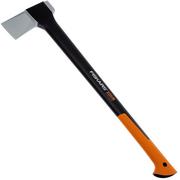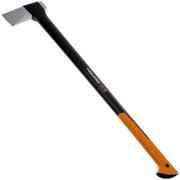 Two amazing axes that look very much alike. We hope this article made the choice a little easier. Curious to find out what else the Fiskars range has got to offer? Check out the entire Fiskars range. Or do you prefer any of our other axe brands?